UNO's "Center for Excellence in Education" (68th and Mercy Road)
Aksarben Village site to become UNO education center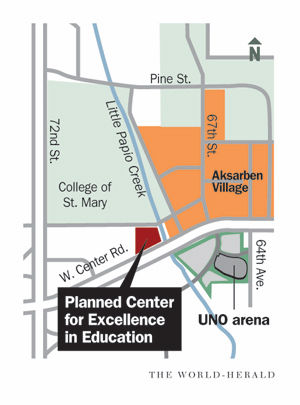 A grassy tract on the south side of Aksarben Village — once occupied by an industrial equipment firm — is poised to become an extension of the University of Nebraska at Omaha campus.
More specifically, a "Center for Excellence in Education" is to rise at the five-acre site.
The center would house elements such as the UNO Early Childhood Education Center, shared classrooms for the Buffett Early Childhood Institute and UNO College of Education and rental space for Metropolitan Community College and the Avenue Scholars Foundation.
UNO Chancellor John Christensen, in his State of the University Address in late October, noted the plan to establish an excellence center by 2020.