Join us Saturday March 4th for a day or retro sports gaming @ Addy's Sports Bar & Grill. (14110 S Street in Omaha)
Tecmo Bowl starts @ Noon, and RBI Baseball @ 6 PM. Please arrive 15 minutes early to register.
$15 gets you into either game, or get into both for only $25.
The action begins for everyone with a round of group play games. The win-loss records from group play are compiled and used to seed players in the elimination round. Before each game a coin toss occurs. The winner of coin toss verbally names the 2 teams that will be used in the match-up. The other person then chooses their team OR has the option of taking a preferred controller (Player 1 or 2).
All registered players are entered into free prize drawings which include gift certificates to Addy's, along with NFL, MLB, and NES memorabilia.
There will be additional NES sports games available for spectators to play. However if the tournament turnout is high, the tournament will take priority with NES equipment over any additional games being available to spectators. In that case, when the field narrows down to 8 players, then additional games would become available for spectators to play.
Please post any questions you have, and I'll be happy to answer.
For the latest details, follow the facebook event page >
https://www.facebook.com/events/760768844079435/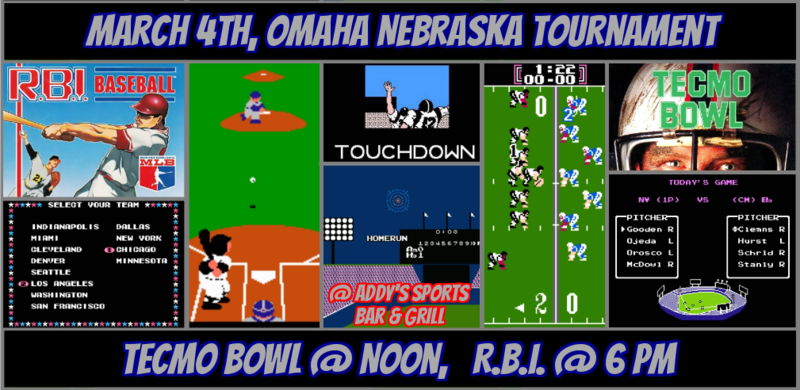 Images below were taken at our Tecmo Bowl event from 2016 at Beercade in Benson. We determined that food was a priority for this event, and found Addy's best suited our needs going forward.